Gea Annunziata
Artist Biography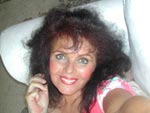 Hi, my maiden name is Gea Annunziata Austen. My father made the very first Peace badges in 1958, Eric Austen, he was an art teacher. I started drawing and painting when I was very young , and my father used to use my work to teach student teachers when he became a lecturer.
I have drawn all my life and illustrated poetry magazines and done lots different types of art work, photography. I love it. Using a pc brought me into a whole new world of Fractals, which are a bit of a passion. I have stayed up all night to do fractals.
I enjoy the mix of art and mathematics, which really fascinates me, especially as my first and most enduring love has always been nature, and fractals follow the same patterns , the random and the uniform excite me in nature and art. Also the effect of color on the brain is very interesting and something I have studied.
To see more art of Gea Annunziatar please follow this link: