Vincent Domazet
Artist Biography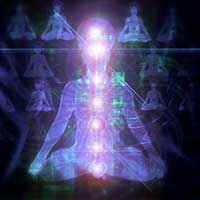 I have been creating these pieces for about two years now. What was initially inspired from a weekend of camping (which literally changed my life) has grown and changed immensely over this time. At the time I wasn't aware what was happening to me but as I've read and researched it, have realized that my experience was an awakening.

I can not give a name to my style, but can say that every piece is bright and vibrant while using specific lighting and shading techniques which I can definitely call my own. I am inspired from various avenues of life...as I do truly believe that there is beauty in all aspects of life. (although sometimes it does take a different viewpoint to see). I have discovered through this time that my ideas (or at times a push in the right direction) come from intense visions which are inspired by music and meditation. Many of the pieces on this page came together quite quickly and easily with just my mouse, photoshop, my camera and numerous stock photos as my palette and tools.
The art will change and evolve all the time as my sources of inspiration will truly never cease.
So many of us inspire each other and that is truly the amazing thing about our interconnection in life. Let's all see where we can take this....I know there are no limits to what we can achieve.
To see more of Vincent's art fallow this link: